ROADBOOK Volume 4: Experience Swabia / Allgäu
Based on the brief descriptions of the tour maps and individually designed inspiration routes of our member places, the mein PLATZ "Road Companion" represent a perfect and detailed addition to the map set.
The suggested routes are carefully selected and represent a selective selection of regional, national and international destinations. We give you inspiration and suggestions for your vacation trip, short trip or weekend getaway. In addition to specific details such as route guidance, distances, street and map information and ideas about places, you will also receive a lot of information about tourist highlights, leisure and wellness offers, as well as peculiarities of regional customs, local culture and history.
Our collection series also offers the opportunity to add your own impressions, experiences and experiences to your copy and thus make it a valuable "one-off" with a memory effect.
We would be happy to send you our DAS MEIN-PLATZ INSPIRATION BOOK: VOLUME 4: Experience Schwaben / Allgäu
For a processing fee and postage
you can request volume 4: Experience Schwaben / Allgäu at any time using our order form.
For orders within Germany s is the fee
incl. Postage costs 6.00 €
For orders from / in neighboring EU countries is the fee
incl. Postage costs € 7.50
(all prices incl. taxes.)
The dispatch takes place only after receipt of payment on our account.
With the sending of the catalog you will automatically receive a valid invoice.
Please make a note of the following when making a bank transfer:
INSPIRATION BOOK: VOLUME 4: EXPERIENCE SCHWABEN / ALLGÄU and your full address!
Otherwise no assignment to the order can be made and no dispatch can be made
become.
Telephone orders are not accepted
also no Pay Pal payments!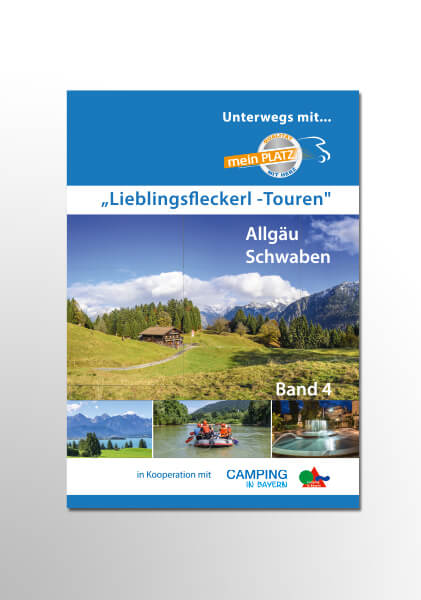 payment method
Payment in advance to:
my PLATZ Service GmbH
HVB Munich
IBAN: DE71700202700015003793
BIC / SWIFT: HYVEDEMMXXX