Our handy map set with route and tour suggestions is the ideal planning aid for all motorhome enthusiasts. Beautiful, eventful inspiration routes, including a short description, space ideas and driving routes invite you to regional, national and international exploration tours with a built-in experience factor.
The set includes route suggestions for Germany, Holland, Austria, Italy, Portugal and Sweden.
We would be happy to send you our route and tour map set
also by post.
For a processing fee and postage
you can request the set at any time using our order form.
For orders within Germany s is the fee
incl. Postage 8.00 €
For orders from / in neighboring EU countries is the fee
incl. Postage costs € 10.00
(all prices incl. taxes.)
The dispatch takes place only after receipt of payment on our account.
With the sending of the catalog you will automatically receive a valid invoice.
Please make a note of the following when making a bank transfer:
ROUTE AND TOUR MAP SET and your full address!
Otherwise no assignment to the order can be made and no dispatch can be made
become.
Telephone orders are not accepted
also no Pay Pal payments!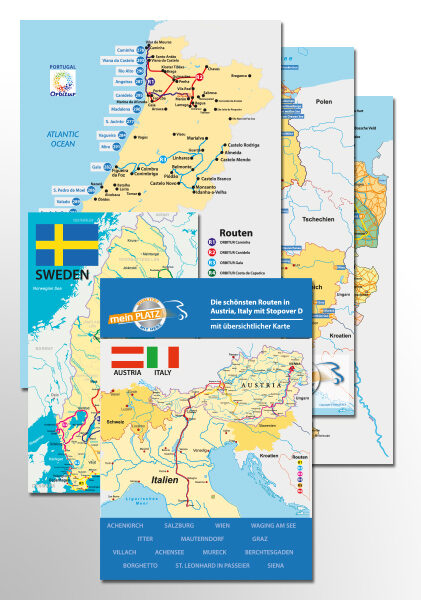 payment method
Payment in advance to:
my PLATZ Service GmbH
HVB Munich
IBAN: DE71700202700015003793
BIC / SWIFT: HYVEDEMMXXX